Our Sizing
The sizes of gloves are usually considered in half and whole numbers. 
Women's sizes are between 6 and 8 ½, Men's sizes are between 7 ½ and 11.
If you are not sure about your glove size, measure your hands at its widest point in cm – excluding the thumb - as on the photo. Use your hand you normally write with. Your palm should be open when measuring. Sizing is not based on finger length. Our size chart is adjusted to the average finger length.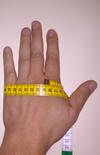 Advice: 
Fur lined gloves are more comfortable to wear if the size is not the perfect match. Select the bigger size for your gloves if your hand width measured in cm is closer to the biggest number.
The Patent leather or cow fur overhead gloves are good to be bought in a once bigger size because these materials are not elastic.
Our man and woman driving gloves are equable to each other in fashion, but there is a difference in the size. Those gentlemen can calmly chose a glove from our woman gloves whose hand is smaller than our smallest men sized glove.
If you want to buy driving gloves and you are unsure of the size, please choose the smaller one. Our gloves are made of soft, thin, flexible leather that expands on the hand. It's good to be a little tight on the first try-on. If you can put the gloves on, but they are tight, then that is the right size.
SIZE CHART
Women's gloves sizes:
Size

6

(XS)

6 1/2

(S)

7

(M)

7 1/2

(L)

8

(XL)

set in cm

15 – 16,3

16,4 – 17,5

17,6 – 18,9

19 – 20,3

20,4 – 21,5
Men's gloves sizes:
Size

7 1/2

(XS)

8

(S)

8 1/2

(M)

9

(L)

9 1/2

(XL)

10

(XXL)

10 1/2

(XXXL)

set in cm

19,5 – 20,9

21 – 21,9

22 – 23,5

23,6 – 24,9

25 – 25,9

26 – 27,4

27,5 – 28,9
GIFT BOX: one size - AVAILABLE: https://alpagloves.hu/diszdoboz-fekete-986